You're Invited to Challenge.
Whether focused in the sciences or the humanities, business or the fine arts, a Providence College education is defined by challenge. The Honors Program takes it a step further, adding rigor to an already rigorous undergraduate experience. The product of all this challenge? Students and alumni well prepared to challenge assumptions and convention as leaders in academia, business, government, healthcare, law, or any field.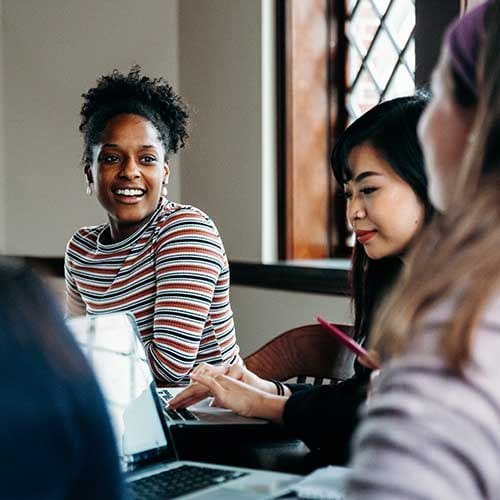 For more than 60 years, Providence College's highest academic achievers have been invited to join the Honors Program. It will challenge you, and you'll be stronger, wiser, and sharper for it.
Here's How It Works: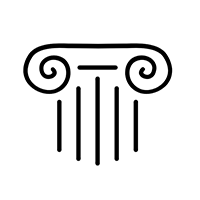 Honors Civ
Like all Providence College students, honors students study Development of Western Civilization (a.k.a. "DWC" or "Civ"), but the four-semester Honors Civ program allows time for deeper, engaging discussion of more numerous and diverse sources.
Honors Colloquia
Honors students take one or more interdisciplinary colloquia that study a variety of topics. Recent offerings have included The Buddha and the Christ; Coming of Age in Fiction and Film; Gender, Race, and Class in America; and the works of J.R.R. Tolkien.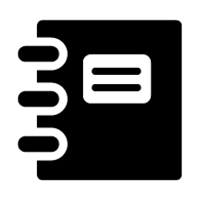 Honors Courses
Honors students enjoy exclusive opportunities to satisfy core requirements in smaller, more focused classes with other honors students.
Students must complete a minimum of six honors courses, but most choose to take more.
Student Perspectives
Small class sizes have empowered me to participate actively in class and to engage closely with my professors to develop academic skills. My professors come from a wide variety of disciplines and backgrounds. They challenge my perspective on the course material in ways I never thought were possible.

Myles Johnson '24
In the Honors Program, the unexpected becomes the routine. Only here is it suddenly necessary to write an essay comparing the works of Walt Whitman and Pope Leo XIII. I applied to the Honors Program at the end of my first year at PC because although that first year of college had certainly been bewildering and difficult, I still wanted more — I wanted to think more, to read more, to talk more, and to be held to a higher standard. So far, so good.

Fiona Clarke '23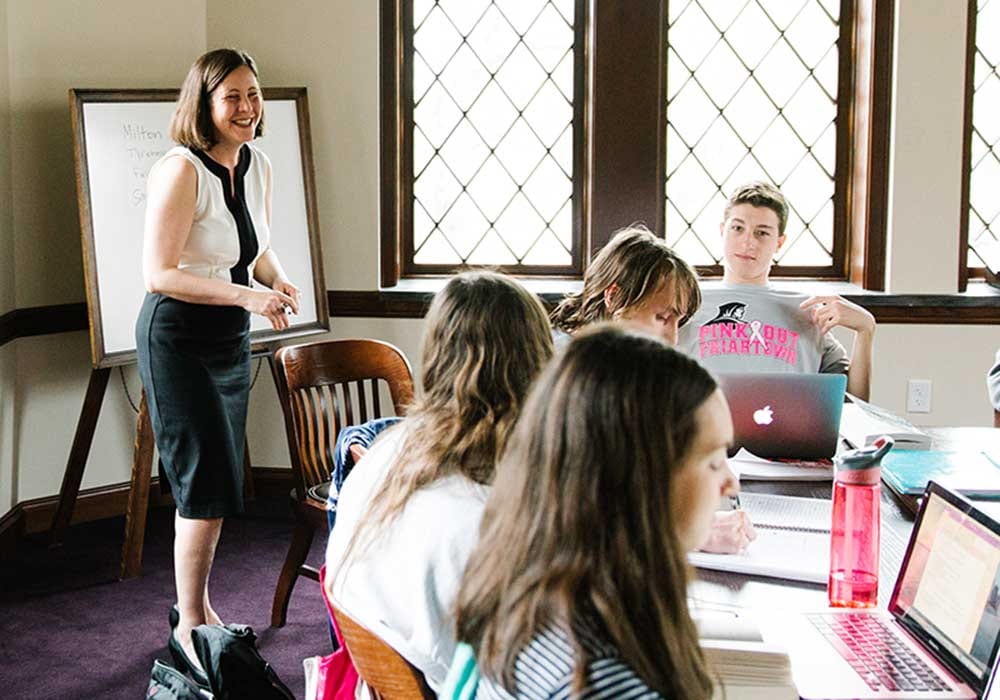 More Program Benefits
Peer Mentoring
The Honors Program offers every incoming student the opportunity to have a peer mentor, an upper-level Honors student who has volunteered to assist a first-year student through the first year of college. The program was proposed by honors students nearly 10 years ago, and it remains a highly successful student-run initiative.
Winter Shadow Program
Each year, hundreds of PC students participate in the Winter Shadow Program offered by the Center for Career Education and Professional Development. The program matches students with PC alumni volunteers across the country to allow them to investigate a prospective career by shadowing that alumnus for a day or two. The Honors Program provides travel funds to promote honors students' participation and foster their career development.
Cultural and Academic Enrichment
Events include dinners, lectures, and visits to places like the RISD Museum, Trinity Repertory Company, and the Rhode Island Philharmonic. Event highlights include the Honors Convocation dinner in the fall and Rodney Delasanta Lecture in the spring.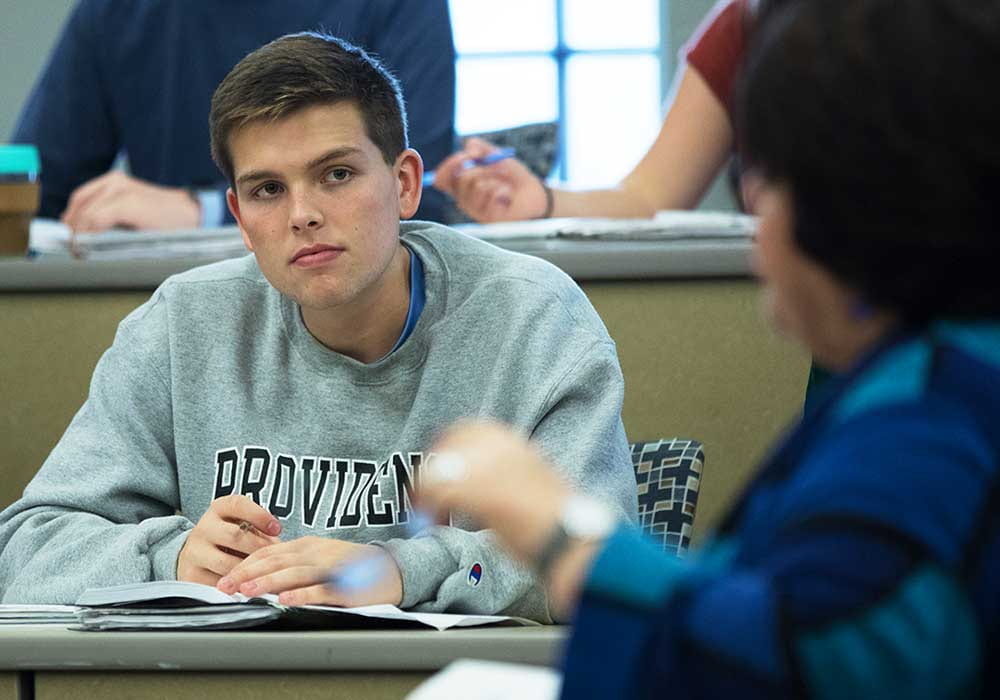 Additional Program Information
Selectivity
An average of 13.5% of admitted students are invited to the Honors Program each year based on academic achievement: rigor of high school courses and GPA, essay, recommendations, and standardized test scores (if applicable).
Admission
There is no separate application for the Honors Program. Students are invited upon admission to the College. Rising sophomores can apply to join the program. Sophomore application process 
Full Integration
There is no separate housing for honors students. Participants are fully integrated into campus and residence life, enjoying the same activities as other students in addition to program-specific opportunities.
Spring Break Abroad with the Honors Program
An annual Spring Break excursion is one of the most treasured opportunities available to honors students. In recent years, students and faculty have traveled to France, Italy, England, Ireland, Spain, Austria, Germany, Greece, Turkey, and Peru.
Alumni Perspectives
I was always shy in high school, but my experience in the Honors Program helped me find my voice! During seminar, we applied our readings to the course as a whole and to real-world topics. This interactive experience and my wonderful Honors professors helped me broaden my perspective and feel more comfortable voicing my opinions in front of others. The positive experience I had in the Honors Program led me to my current job in a federal regulatory agency, where I work with a team in a setup nearly identical to an Honors seminar. I'm grateful for the experience and for the confidence I gained.

Courtney Altenburger '18
My tenure in the Honors Program sharpened the critical thinking skills I use every day, and also provided direction as to what I would do with those skills once I left Friartown. In my early years at PC, I had considered law school as a postgrad option, and my Law and Literature honors colloquium with Dr. Scanlan my junior year inspired me to start studying for the LSAT. My track coaches were always supportive of those of us who were members of the Honors Program. Together, these two involvements gave me a richer college experience. I actually think I got better grades when I was in season because I felt more focused, prioritized what was important, and managed my time more efficiently.

Also, an unexpected perk of the Honors Program is how many answers I now know on Jeopardy. Can't oversell how great it is to know all the Daily Doubles!

Kevin Olsen '16
After Honors
The end of the Honors Program at Providence College is just the beginning.
Each year, about half of graduating honors students seek immediate professional employ­ment. The other half continue their studies at the best graduate, law, and medi­cal schools worldwide, including Harvard, Yale, Princeton, Columbia, Brown, Pennsylvania, Johns Hopkins, University of Michigan, Georgetown, Notre Dame, Oxford, and Cambridge. Read more about recent Providence College alumni outcomes.
Through the years, many honors students have gone on to complete prestigious post-graduate fellowships. We've had Fulbright award winners, SMART Scholarship recipients, and FAO Schwarz fellows, among others. Watch this video to learn more about how Providence College and the Honors Program groom students for these stellar achievements.
Distinguished Honors Alumni
Roy Peter Clark, Ph.D. '70 & '17Hon. (SUNY Stony Brook), Senior Scholar, The Poynter Institute (retired)
Meg Mitchell Moore '94 Author of the novels The Arrivals, So Far Away, and The Admissions
Austin D. Sarat, Ph.D., J.D. '69 & '08Hon. (Ph.D. Wisconsin) (J.D. Yale), Professor of Political Science and Jurisprudence, Amherst College
Ellen McNulty '97 Founding Partner, Corra Consulting
James Ludes, Ph.D. '93 (Georgetown), Vice President for Public Research and Initiatives, Executive Director of Pell Center for International Relations and Public Policy
Karen M. Ignagni '75 CEO and President of Emblem Health
Rev. Brian J. Shanley, O.P., Ph.D. '80 (Toronto), Past President of Providence College, President of St. John's University
Michael M. Woody '77 & '83G President of International Marketing Advantages, Inc.
Lindsay E. Waters, Ph.D. '69 (Chicago), Executive Editor for the Humanities, Harvard University Press
Gerard A. Mulligan '64 Senior Writer (ret.) and five-time Emmy winner, David Letterman Show
John J. Partridge, J.D. '61 & '11Hon. (Harvard), Founding Partner, Partridge Snow & Hahn Law Offices
John W. "Jack" Flynn '61 Vice Chairman/CFO (ret.), Fleet Financial
Kerry A. Weber '04 Managing Editor of America
Honors alumnus Roy Peter Clark, Ph.D. '70 & '17Hon. delivers an address at Commencement in 2017.