Annual Delasanta Lecture
Each year in April, the Liberal Arts Honors program holds a lecture series in honor of Rodney K. Delasanta, Ph.D. '53, program director from 1987-2004. Under his guidance, the program expanded from approximately 25 students to more than 100 students per class year.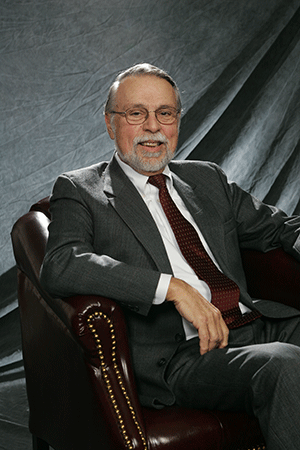 Rodney K. Delasanta, Ph.D. '53
Dr. Delasanta, who passed away in 2007, served as a member of the PC faculty since 1961. He was a visiting professor at the University of Fribourg, Switzerland, for the 1969-70 academic year and a visiting associate professor at Brown University in 1983. In addition to service as chair of the Department of English and assistant director of the Study Abroad Program at the College, Dr. Delasanta also served as chairman of the Rhodes Scholarship Nominating Committee for Rhode Island. He received the College's President's Distinguished Faculty Award in 1999 and The Very Reverend Vincent C. Dore, O.P. Award from the Providence College Alumni Association in 1996.
Past Lectures
2018
Maureen Corrigan: And So We Read On
Maureen Corrigan, author and book critic for NPR's Fresh Air
2017
Thomistic Personalism: A Marriage Made in Heaven, Hell, or Harvard?
Peter Kreeft, professor of philosophy at Boston College, is one of the country's foremost experts in Christian apologetics
2016
Prophetic Discourse in the Public Square: Problems and Possibilities 
Cathleen Kaveny, Darald and Juliet Libby Professor at Boston College
2015
2014
The Problem of Suffering: A Thomistic Approach
Eleonore Stump, Robert J. Henle Professor at St. Louis Universtiy
2013
2012
STEM to STEAM: The Meaning of Innovation
John Maeda, former president of the Rhode Island School of Art and Design
Maeda focused on how adding art and design to the national STEM subjects—science, technology, engineering, and math—can turn STEM into STEAM. Maeda demonstrated that critical thinking, critical making, and creative leadership can lead the country to an enlightened form of innovation where art, design, technology, and business meet.
2011
The Use and Abuse of Dictionaries 
Ammon Shea, author and editor
Shea talked about the unexpected joys to be found in reading the dictionary for fun and profit, as he describes the year he spent reading the Oxford English Dictionary in its entirety.
2010
The Achievement of Pope John Paul II 
George Weigel, distinguished senior fellow of the Ethics & Public Policy Center
One of America's leading Catholic intellectuals, Wiegel discussed the enduring accomplishments of John Paul's papacy (1978-2005). He noted that John Paul II "recast the Office of Peter in the twenty-first century as an office of evangelical witness."