Annual Honors Convocation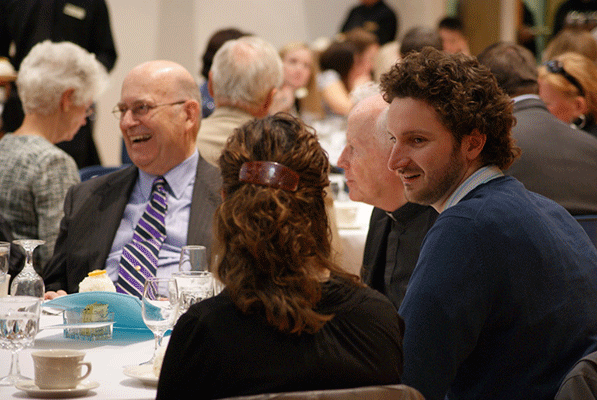 At the start of the academic year, the Honors Program sponsors an annual Convocation Dinner for all students, faculty, and alumni of the program. At Convocation, the Thomson Scholar Award is given to the student voted by the faculty as the most outstanding student to complete the Honors Development of Western Civilization course sequence. A distinguished alumnus or alumna is also invited to the Convocation to give an address.
2019 Thomson Scholar: Sean Gray
2018 Thomson Scholar: Megan Monte
Distinguished Alumna: Fr. Andrew Royals, Bring on the Women Priests!
2017 Thomson Scholar: Nicholas Ogrinc
Distinguished Alumna: Laurie Malia '07, D.O.
2016 Thomson Scholar: Sarah M. Kelley
Honors Program Conference Speaker: Doris Kearns Goodwin
2015 Thomson Scholar: Lauren Berolini
Distinguished Alumna: Dr. Raymond Sickinger '71, Professor of History, Providence College
2014 Thomson  Scholar: Colleen Gardner
Distinguished Alumna: Kerry Weber '04, Managing Editor of America and author of Mercy in the City
2013 Thomson Scholars: John Bugnacki, Francis Rowland
Distinguished Alumna: Katherine Helming '09, Graduate Student at Harvard University Medical School
2012 Thomson Scholars: Jekaterina Procenko, Matthew Santos
Distinguished Alumna: Siobhan Fallon '94, Author of You Know When the Men Are Gone
2011 Thomson Scholar: Eliza R. Mandzik
Distinguished Alumnus: Patrick J. O'Malley '93, Attorney at Law, Professor of International Law
2010 Thomson Scholars: Michael A. Wahl '12 and Nathan J. Ricci '12
Distinguished Alumna: Jane L. Gonsalves '80, a nine-term member of the City Council in New Bedford, Mass.
2009 Thomson Scholars: Yi Cao '11 and Elizabeth Santilli '11
Distinguished Alumnus: James Ludes '93, Ph.D. (Georgetown University), Executive Director of the American Security Project, Washington, DC.
2008 Thomson Scholar: Elizabeth Weber '10
Distinguished Alumna: Ellen McNulty '97, Founding Partner of Corra Consulting
2007 Thomson Scholar: Joseph Schneider '09
Distinguished Alumnus: John Partridge '61, J.D. (Harvard), Partridge Snow & Hahn Law Offices, Providence, RI
2006 Thomson Scholar: Katherine Mattaini '08
Distinguished Alumnus: Michael Woody '77, President of International Marketing Advantages, Inc
2005 Thomson Scholars: Deanna Cioppa '07 and Christopher Berard '07
Distinguished Alumnus: Rev. Brian Shanley '80, O.P., Ph.D, (Univ. of Toronto), President of Providence College
2004 Thomson Scholar: James Michael Bennet '06
Distinguished Alumnus: Charles J. Goetz '61, Ph.D. (University of Virginia), Joseph M. Hartfield Professor of Law, University of Virginia
2003 Thomson Scholar: David Scholl '05
Distinguished Alumnus: Gerard Mulligan '64, M.A. ( Univ. of North Carolina), Senior Writer, David Letterman Show
2002 Thomson Scholar: Erin Beck '04
Distinguished Alumnus: Peter Conn '64, Ph.D. (Yale), Professor of English, Deputy Provost at the University of Pennsylvania
2001 Thomson Scholar: Neisha McGuckin '03
Distinguished Alumnus: Austin Sarat, '69, Ph.D. (Wisconsin); J.D. (Yale), Professor of Political Science and Jurisprudence at Amherst College
2000 Thomson Scholars: Marianne Grace '02 and James Kabala '02
Distinguished Alumnus: Roy Peter Clark '69, Ph.D. (SUNY at Stony Brook), Poynter Institute of Journalistic Studies, St. Petersburg, FL
1999 Thomson Scholars: Talia Danesi '01 and Brendan Lefebvre '01
Distinguished Alumna: Karen Ignagni '75, CEO and President, National Association of Health Maintenance Organizations
1998 Thomson Scholar: Karen Witiw '00
Distinguished Alumnus: Robert Walsh '64, J.D. (Harvard), Dean, Wake Forest University Law School
1997 Thomson Scholar: Gretchen Murray '99
Distinguished Alumna: Lindsay Waters '69, Ph.D. (Chicago), Executive Director, Harvard University Press
1996 Thomson Scholar: Timothy Daniel Murray '98
Distinguished Alumnus: John Partridge '61, J.D. (Harvard), Partridge Snow & Hahn Law Offices, Providence, RI
1995 Thomson Scholar: Emily Byers '97
Distinguished Alumnus: Richard Grace '61, Ph.D. (Fordham), Professor of History, Providence College